One of the most common kratom side effects is kratom dizziness, especially among less experienced users. Kratom newbies usually complain that kratom makes them dizzy. Good news is that you can easily avoid kratom dizziness by following some simple tips. This will also provide you with a better knowledge of kratom.
For hundreds of generations, southeastern Asian countries have been using kratom (Mitragyna speciosa) as a natural remedy for anxiety, depression, pain or lack of energy. It is only recently that it has gained popularity in other areas of the world thanks to its medicinal properties.
While the effects of kratom can be very beneficial (it can be, for instance, a good ally in coping with opiate withdrawal or a natural alternative to traditional opioid analgesics, among other things), kratom can also cause some undesired side effects, such as nausea, eye wobbles or dizziness.
Causes of Kratom Dizziness
Why can kratom cause dizziness? Before explaining this, it is important to understand how kratom work in our body.
Kratom active elements include more than 20 alkaloids and other compounds that act on the opioid receptors in our brain. These so-called opioid receptors are neurotransmitters that are affected by opiates (from heroin to prescription painkillers). Kratom can affect these receptors in a similar way opiates do. But there is a great difference: kratom is not an opiate.
During the time alkaloids and other active elements of kratom are blocking the opioid receptors, the effects of kratom are felt: analgesic, relaxing, sedative, euphoric… But also, its side effects, such as a headache, nausea or dizziness. Furthermore, kratom can also impact balance, perception or vision, which would provoke kratom dizziness.
High doses can cause kratom dizziness. There are also some kratom types (Borneo, Indo, and Bali) that can cause dizziness and eye wobbles.
Kratom Dosage and Dizziness
The dosage of kratom is one of the major factors when talking about kratom dizziness. A dose too high can provoke dizziness, lightheadedness and even a sensation of a foggy brain. If you are using large doses of kratom and feeling dizzy or lightheaded afterward, the general recommendation is to try more moderate or conservative doses.
Kratom Dizziness and Low Blood Sugar
Dizziness or a foggy brain can also arise as the result of low blood sugar (hypoglycemia). In many cases, low blood sugar may be a consequence of a lack of food in the stomach.
When taking kratom, many users may not even notice they are hungry. This is due to the alteration of perception kratom can provoke. Also, because of the nausea that kratom dizziness can cause, you may not feel like eating.
The effects of hypoglycemia or low blood sugar in your body can be unpleasant. If you are suffering from dizziness or brain fog due to low blood sugar, sit down for a while and eat something high in sugar. If you are also feeling nauseous, a spoonful of maple syrup or honey can be very helpful. This way you will get a sugar boost that will not upset your stomach.
In case you are prone to experience kratom dizziness or nausea try to avoid ingesting kratom with an empty stomach.
Kratom Eye Wobbles and Dizziness
Kratom eye wobbles (or eye wiggles) is the common name given to a condition called nystagmus. When someone experiences eye wobbles after taking kratom, his or her eyes move involuntarily from one side to another making it almost impossible to focus. Kratom eye wobbles are very related to dizziness, as they can create a false sensation of movement. This will also lead our inner ear into believing that our body is moving differently from what the eyes are showing. The inner ear would send the brain a "message" indicating that our body is stationary. But at the same time, the eyes would send a completely different signal (i.e., that our body is moving because the images may seem to be moving). As a result of these contradictory sensory inputs, we can feel dizziness, nausea or even vertigo.
This is exactly what happens when you get carsick: your eyes send the signal to the brain that you are actually moving (you see the images moving from the car), but at the same time your inner ear feels that the body is not moving. Or vice versa: if you are reading in a moving car, your eyes will send the brain the idea of being stationary (as the book does not move), but the inner ear will notice the movement of the car and will provide the opposite input (that is why you may feel dizzy when reading in a car).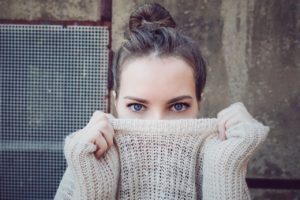 How to Avoid Kratom Dizziness
The easiest, simplest way to avoid kratom dizziness is to reduce the dosage of kratom. Since each kratom variety has different effects (some varieties have more sedative or analgesic properties, while others can bring up more euphoric or energizing effects), it is wise to switch to those strains that are considered more appropriate for the effect you are searching. This will allow you to achieve the effects which you desire at a lower dosage. Lower kratom doses are undoubtedly the best way to reduce your chances of experiencing kratom dizziness.
There are users who opt for trying a different kratom strain. Avoid Borneo, Indo and Bali strains, traditionally more associated with dizziness (and kratom eye wobbles) than other varieties.
Recording your kratom experience (including dosage, strain, onset, effects…) will also help you find the best kratom strain and dosage for you and to avoid dizziness.
Trying a different method of taking kratom can also help avoid kratom dizziness since the preparation method can even alter the effects produced by kratom. Kratom has more than 20 alkaloids and the way it is prepared and consumed will affect which alkaloids are released. For instance, brewing kratom into a tea will release certain alkaloids. On the other hand, adding it to applesauce would release a different ratio of these alkaloids. Due to this difference of alkaloids, the effects will slightly vary.