Today, many people have turned to kratom to alleviate conditions, such as pain or anxiety. But this plant has been recently subject to controversy due to the FDA's movements against it. On the other hand, there are regions where kratom is not legal. So, many individuals are looking for alternatives to kratom to ease their conditions. Although Sakae Naa is still unknown to most individuals, its properties are very similar to those of kratom. For this reason, there are people using it as a substitute. In this article, we'll give you an overview of the plant and a Sakae naa recipe to enjoy all its properties.
What Is Sakae Naa?
Like kratom, Sakae naa or Combretum quadrangulare is native to South East Asia. The plant grows mainly in the jungles of that area. People of Thailand and Myanmar typically chew the leaves of the plant as a substitute to kratom, as Sakae naa holds similar effects. Additionally, the plant is very similar to kratom in both look and taste.
The main component of Sakae naa is combretol, a type of flavonoid, to which it owes many of its properties.
Although Sakae naa is still a stranger to the main public, you can find it in the market in the US, especially in internet sites who specialize in ethnobotanicals. Typically, it is sold in powder form.
What Are the Properties of Sakae Naa?
As we mentioned above, combretum quadrangulare holds similar properties to kratom. However, the herb also has different properties. For this reason, Sakae naa wouldn't be a 100% substitute to kratom.
The main properties of Sakae naa include the following:
Euphoric
Energizing
Mildly sedative
Mood-lifting
On the other hand, the plant has been used in China to ease conditions such as sore throat and cold, as well as to ease mild pain.
Finally, consider that Sakae naa, like any other substance, doesn't come without side effects. Some of the most common could be dizziness, confusion, brain fog, and nausea. And, after prolonged use, it can also provoke the darkening of the skin. Additionally, the use of Sakae naa can form a habit, so it is recommended not to take too large doses for a long period of time.
How To Take Sakae Naa
In its area of origin, people collect the leaves of the plant and chew them or smoke them to feel the effects. However, in the Western countries, Sakae naa is typically sold in powder format. So, to feel its properties you should brew it to prepare a tea as it is believed that the heat may contribute to the extraction of its main active ingredients.
Regarding the dosage, as with any other substance, there is no general recommendation. However, a common dosage will go from 5 to 10 grams. On the other hand, the effects of the plant typically last up to 4 hours.
Sakae Naa Recipe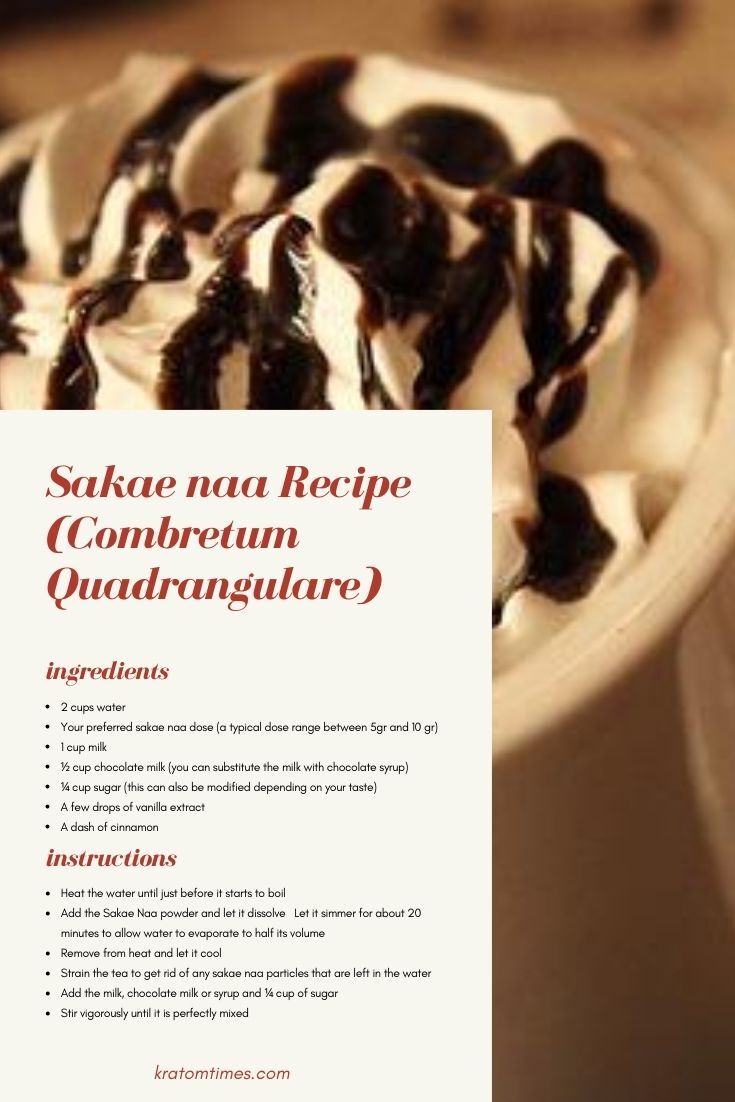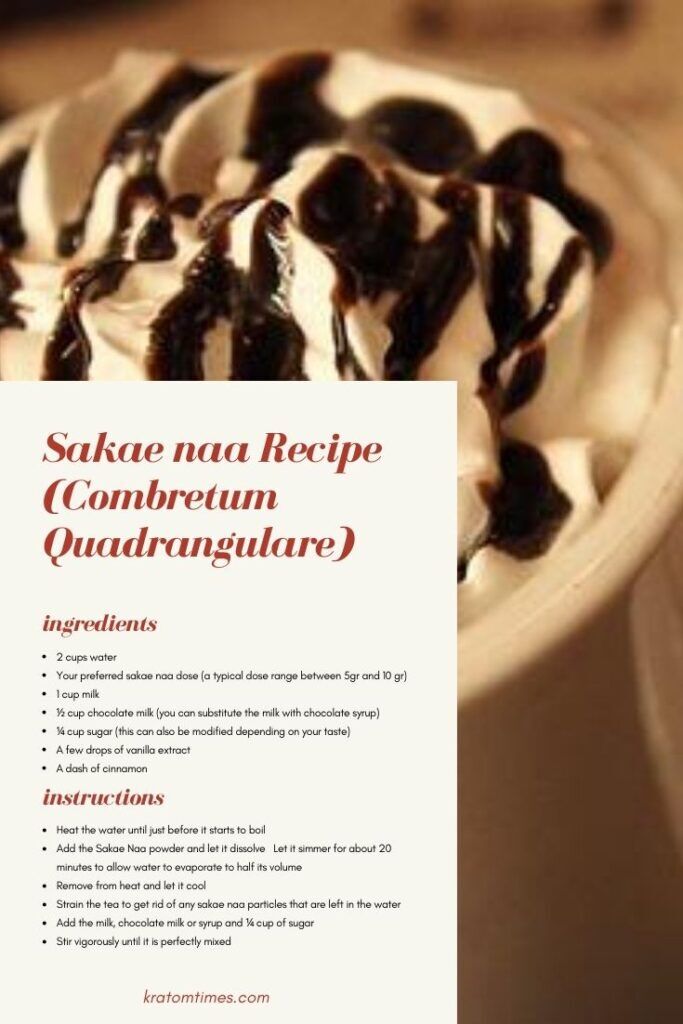 Following our Sakae Naa smoothies' recipes, we would like to give you another idea to enjoy this special herb. So, if you don't particularly enjoy its taste, why not try this easy Sakae naa recipe?
Ingredients:
2 cups of water
Your preferred Sakae naa dose (a typical dose range between 5gr and 10 gr)
1 cup milk
½ cup chocolate milk (you can substitute the milk with chocolate syrup)
¼ cup sugar (this can also be modified depending on your taste)
A few drops of vanilla extract
A dash of cinnamon
Directions:
Heat the water until just before it starts to boil (you just want small bubbles to start forming).
Add the Sakae Naa powder and let it dissolve there. But make sure that it doesn't boil. You should let it simmer for about 20 minutes to allow water to evaporate to approximately half its volume. Basically, you want to have the same amount of water and milk.
Remove from heat and let it cool.
Strain the tea to get rid of any Sakae naa particles that are left in the water. You can use cheesecloth or, if you don't have one, a t-shirt will do the trick.
Add the milk, chocolate milk or syrup and ¼ cup of sugar. If you think that it is not sweet enough, you can add more sugar later. Stir vigorously until it is perfectly mixed.
Enjoy this tasty sakae naa recipe!