Most users enjoy the benefits of kratom by ingesting it, so their body can absorb its active elements and feel its therapeutic effects. But as kratom popularity grows, fans experiment with new uses and formats that allow them to enjoy kratom in different ways. Now, for instance, you can find recipes to make your own kratom soap, but you can also add kratom to the popular bath bombs. In this article, we will show you the instructions and three different recipes to make your own kratom bath bombs at home that will allow you to enjoy the benefits of kratom while you take a relaxing bath.
Kratom Bath Bombs Elaboration
The elaboration process of the kratom bath bombs is the same for the three recipes, so we will begin by showing you how the bombs are made. The ingredients will be mentioned below, in each recipe.
Mix the citric acid and the baking soda either in a flat dish or in a baking paper on the kitchen countertop (in any case, it should be done on a flat surface).
Make a pile of the powder and make a hole in the center.
Add the kratom, the essential oils and the flower petals to the powder hole.
Mix it all and place the resulting mixture in molds to make little bombs. Or you can sprinkle it directly on the water!
Energizing Kratom Bath Bombs
The energizing fragrance of the citric fruits combined with the rosemary oil will enhance the revitalizing properties of these kratom bath bombs. After a tiresome day, add these kratom bombs to your bath and feel your energy boosted.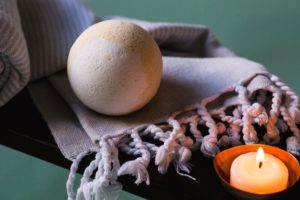 Ingredients for 4 small bath bombs:
80 g of sodium bicarbonate
1 tablespoon of citric acid
Maeng Da kratom powder (1 teaspoon)
1 drop of lime essential oil
4 drops of grapefruit essential oil
1 drop of rosemary essential oil
4 drops of lemon essential oil
1 pinch of shredded dried calendula petals
Relaxing Kratom Bath Bombs
The relaxing properties of the Bali kratom are improved by the calming effects of the vetiver and the St John's Wort oils, while thanks to the ylang-ylag and the rose, these bath bombs turn out also beneficial for your skin. For those moments of stress, these kratom bath bombs will provide you with a most relaxing, enjoyable experience.
Ingredients for 4 small bombs
1 tbsp of citric acid
3 tablespoons of baking soda
1 teaspoon of Bali kratom powder
2 teaspoons of St John's Wort (Hypericum) macerated oil
4 drops of tangerine essential oil
3 drops of vetiver essential oil
1 drop of bitter orange essential oil
2 drops of ylang-ylag essential oil
1 pinch of finely cut rose petals
Soothing Kratom Bath Bombs
Thanks to the Red Thai kratom these bath bombs will have a relaxing effect on you and will even help you mitigate any soreness you have, while the fresh fragrance of orange and tangerine will enhance your senses and elevate your mood.

Ingredients for 4 small bombs:
3 tablespoons of baking soda
1 tbsp of citric acid
A teaspoon of Red Thai kratom powder
1 drop of calendula essential oil
2 drops of orange essential oil
7 drops of tangerine essential oil
1 pinch of a citrus fruit peel (such as orange, lemon or tangerine)